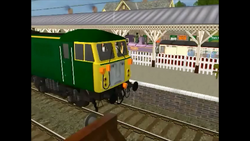 Sean
Position: Electric Engine
Age: 36-38 as of 2011
Status: Operational
Sean is an electric locomotive on the Peel Godred Branch Line with his colleagues Jeffery, Andy and Steve.
Season 3
Sean makes a cameo during Search Engines where one of the Scottish twins tells him about the missing woman that Trevor mentions to Edward at the beginning of the episode. He has a speaking role in Football Special along with Steve, Andy and Jeffery during this episode. One of the notable parts was that Sean said that his own passengers cannot be stranded all day long. The four engines made a cameo as they were pulled to the works by James, due to the electric substation being hit by the storm. Sean makes his penultimate cameo in Shakedown as he brings a slate train for Alice in order to take to another location. Sean later sees Alfred's accident when the LNER B12 derails at a crossover near the train station of Killdane with his goods train.
Basis
Sean, along with his colleagues, is a British Rail Class 87.
Trivia
New models of each of the electric engines were made by WildNorWester for STMY Season 1. They all have the NWR Green and Yellow diesel livery.
Gallery