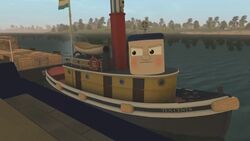 Ten Cents
Position: Rescued Harbour Switcher
Status: Undergoing Overhaul
Ten Cents is a tugboat from the 1980s TV show, TUGS.
Ten Cents worked in Bigg City Port from the 1920s and 30s right up till World War II. He, along with Hercules and Big Mac was sent to England as part of Operation Minnow. He somehow ended up on Sodor to work alongside Drollan, a lazy tugboat working at Harwick Harbour. Ten Cents first appeared as a Sodor The Modern Years character in Last Straw as a flashback when Atlas worked at the Zinc Mine at Cregwir. Following an incident Drollan was involved in he was assigned permanently to working the barges along the river from Harwick to Cregwir as well as an overhaul at the Isle of Man.
Following the closure of the zinc quarry in the 1950s, Ten Cents was occasionally hired out to other harbours around the islands of Sodor and Man, when things got quiet at Harwick.
In 2011, August Ten Cents learned that his loan to Brendam Docks as a helper before a new tugboat arrived was to be his last. Following Wednesday when the new tug arrives he was due to be scrapped. But in an effort by BoCo and Edward he was saved by Emily Hatt, before being taken in by the Norramby Maritime Historical Society for restoration at the marina in Norramby.
During the ride to the marina there was a storm in which Ten Cents answered a mayday call to save Hubert the Hovercraft who had run into trouble at sea. This rescue went viral giving Ten Cents' restoration great publicity. His restoration is under way and he is extremely grateful to have been saved from an otherwise dreary end.
Appearances
Edit
Voice Actor
Edit
Ad blocker interference detected!
Wikia is a free-to-use site that makes money from advertising. We have a modified experience for viewers using ad blockers

Wikia is not accessible if you've made further modifications. Remove the custom ad blocker rule(s) and the page will load as expected.